Nowadays everyone spends his or her time on the web. You come across remarkable home page designs, rousing pieces of a portfolio that lure users to surf a website. Or even visit great Contact Us pages and About Us pages. However, seldom can you see spectacular 404 error pages direct clients to their preferred destination. The significance of the best 404 pages is completely ignored by many companies and brands which is a fatal blunder.
The 404 error message is a normal reminder that implies:
The server is down.
The requested content cannot be found (owing to missing domain or file)
The URL you requested is broken.
The 404 page acts as a tool for conversing with clients who visit a page that is unavailable. An intelligible and attractive 404 error page expresses to visitors that you mind their welfare about having them on your site.
Avoidance or Treatment?
Even if the 404 error page is fundamental to any site, a website must constantly be up and be functioning. And with pages readily available to users. This implies you have to beware of broken links by investing in an appropriate server.
If your visitors are unable to access various pages or your whole site this informs Google you are offering poor user experiences.This can send your website into a descending SERP spiral leading to low traffic, conversions and rankings. The problem can be avoided by having regular broken links check via the use of several tools such as:
-Screaming Frog SEO Spider
-W3C Link Checker
-Xenu's Link Sleuth
Albeit ridding off all broken links, it does not denote that you overlook the 404 error page. When your clients incorrectly click or become victim to typos, a custom 404 is generated. It appears much better than the standard error message and may change the outlook of a visitor towards your brand.
We will show you some of the best 404 pages that we could find and hope you will enjoy seeing them!
1. Pixar
The Pixar character is globally renowned for its Sadness (you know…as her name is Sadness) that features on the 404 page. It includes a cute piece of the plot from the movie she is in. People who already saw the movie are charmed by this creative 404 page. You should try to check both out: the movie and the page!
2. Cirque du Soleil


A wistful icon is featured on the 404 page of Cirque du Soleil to avoid disappointing the visitors for not getting any content. It is accompanied with a very thoughtful message. The branded page features a footer and a header for directing users to the home page.
3. IMDB


The 404 page of Internet Movie Database features quotes from various characters of great films and redirects to the homepage.
4. 9gag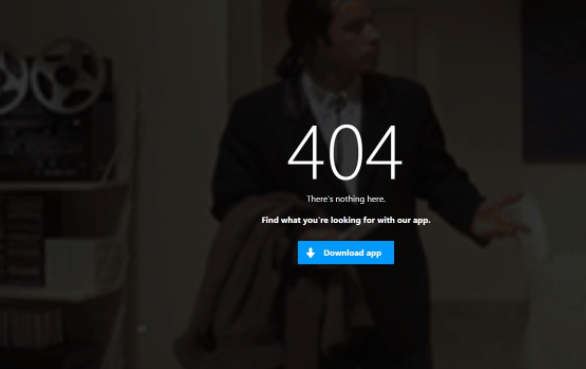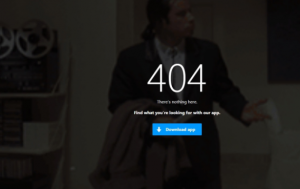 The error page approach of 9gag ultimately showcases their general content and mood. The evergreen John Travolta is featured. The page also has an App download option, great advertisment!
5. Emailcenter UK Ltd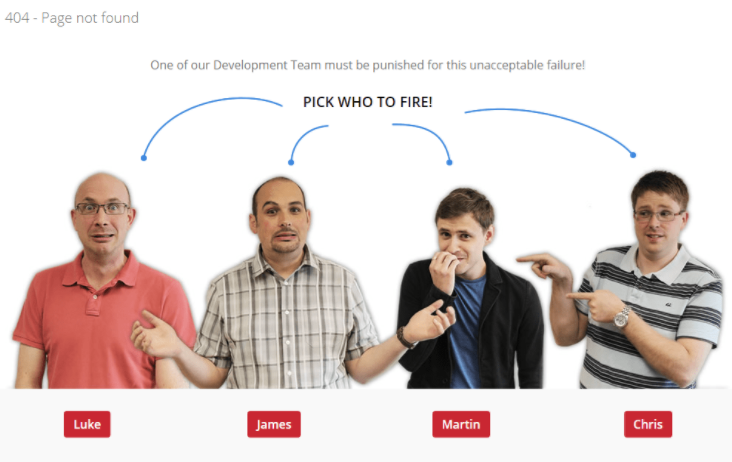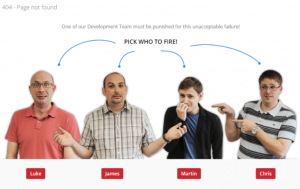 For some of the biggest brands in the UK, Emailcenter UK Limited is the preferred email marketing platform. They have put developers on board on their 404 page.When a user encounters an error on the page, they get to choose who to fire owing to the problem. This makes users to get prompted to wait on the site and explore.
6. 20th Century Fox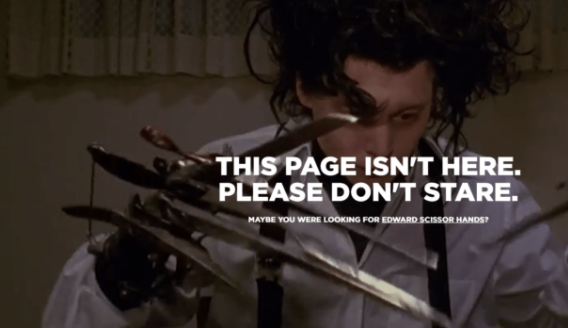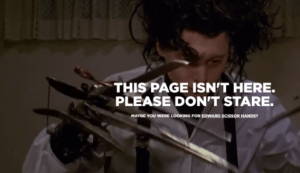 The realization of the Foxmovies 404 page layout is incredibly great. Both sympathy and humor are brought to mind by the appealing movie piece.The fantastic feature does not only activate an excellent film recall, but the link also contains many short videos appearing on the 404 page randomly. Plus it has pertinent text segments at the top of every movie, which every time is different.
7. HubSpot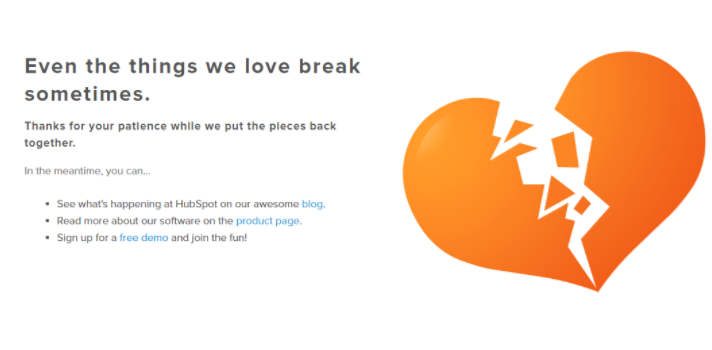 HubSpot does it to my liking with their 404-page layout. The broken heart reminds users that even the stuff we adore sometimes annoys us. HubSpot then proposes other alternative areas as they fix broken links.
8. Batman 3D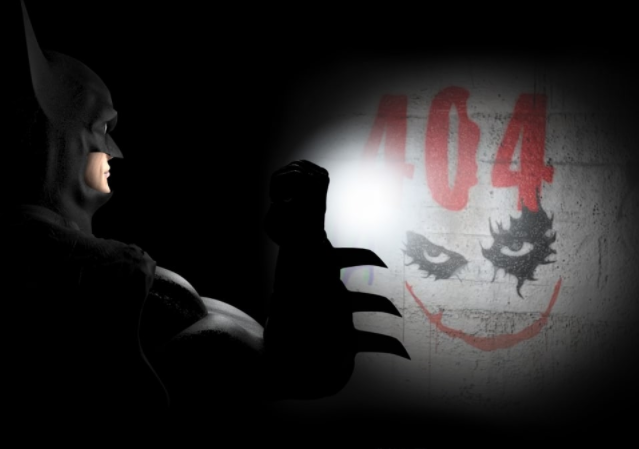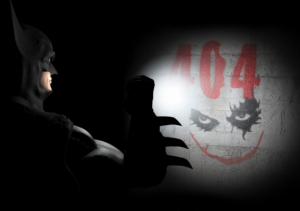 The error page from Batman! On the German owned 3D movie site the error page is scary, perhaps it was the intent. As the mouse drags, Batman's flashlight trails, illuminating Joker's smiling expression from the dark. It is a winning custom error page that elicits sentiments matching the brand that is the movie.
9. Dogstudio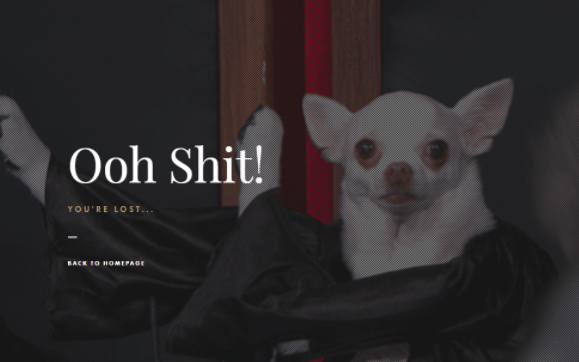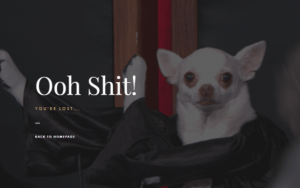 Dogstudio, a design company, shares the prettiest themes on dog GIFs at their 404 page. You will sure love them as they are sweet and short!
10. Hakim El Hattab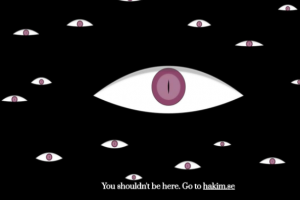 A Swedish front end developer known as Hakim El Hattab has an unforgettable homepage where eyeballs follow your mouse movements.
11. Marvel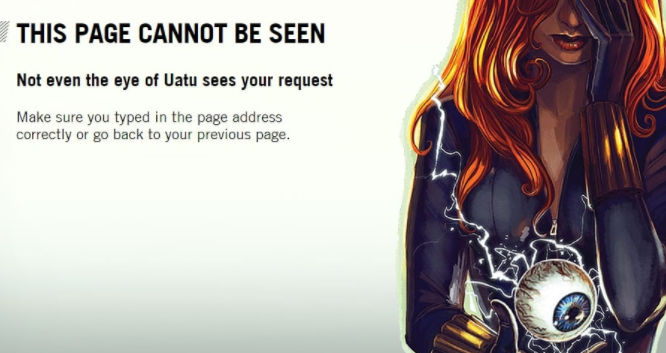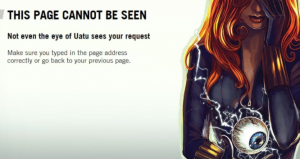 Do not worry at your first instance in case you see a small guy and a magnifying glass. There is so much in store at Marvel. Simply refresh your page! Marvel's amazing heroes will appear in a so well themed manner.
12. Dave Barton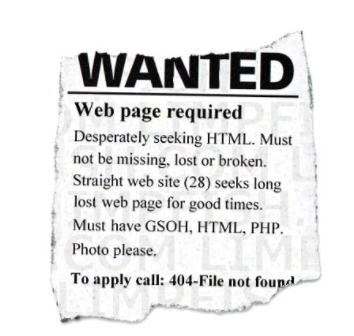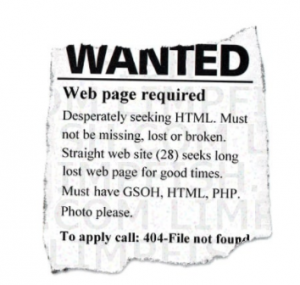 Dave Barton error page is a very creative one that nonetheless seems familiar. The site has a torn newspaper piece on its 404 page that looks like a dating or any other ad, searching what all 404 Error Pages ought to be seeking for: A functioning HTML.
13. Elative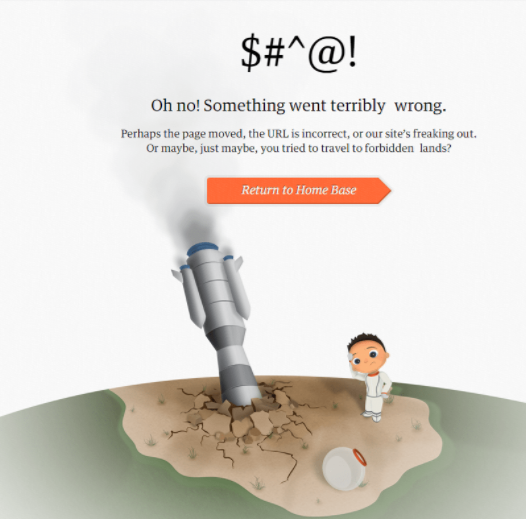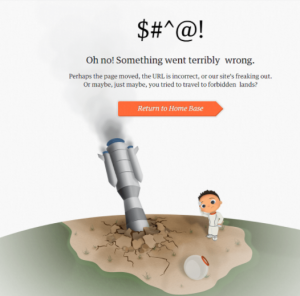 Palo Alto based creative agency called Elative has a 404 page created with an encrypted header. Selecting a picture of a stranded space man they shrewdly suggest a Home Base return, making the error page space-relevant.
14. Blizzard Entertainment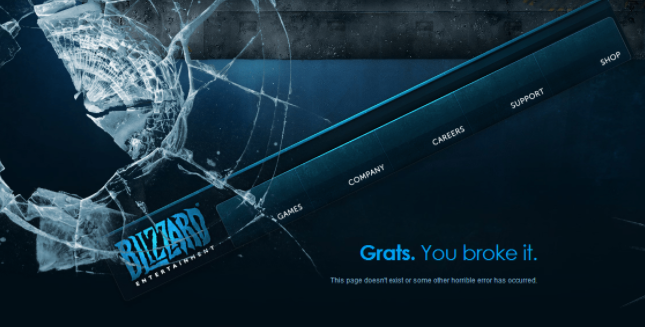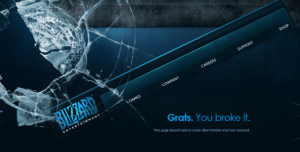 You will be blamed by blizzard entertainment for the 404 page with a creative message illustrating their brand and industry.
Conclusion
It was great researching this information. So many 404 pages failed to meet our expectations. With Emojis making their ways into daily writing it is so much more fun to look at some of the best 404 pages as they are creative and funny.
No Posts for this author.