The idea of starting an E-Commerce site can be very intimidating even for an experienced WordPress user or entrepreneur. There are many options for creating and operating a successful store, and the number of choices can be a problem in itself. On one hand, the freedom is great but, on the other hand, the options can quickly become overwhelming.
This article assumes the business owner has already chosen to use WP as the store's platform and that they have products to sell. However, even with these factors handled, there are still many decisions to make and strategies to use. If someone is new to e-commerce and online selling, this article will put them closer to their goal of running a successful WordPress Shop. In the sections below, new online business owners will get some valuable tips on starting an e-commerce site.
What the Owner Needs to Get Things Started
As with other WP websites, to get started, the owner needs to choose a suitable domain name and a good web host. While most people assume this step is simple, they can be complex for those who are doing it for the first time. The site's URL can potentially make or break the entire project. That means it's important to give thought to how the name sounds. For instance, seemingly innocuous words such as "pen" and "island" can have a completely different connotation when read and pronounced together in a website address. There are many in-depth guides on choosing a suitable domain name for a website, which can be beneficial for those starting their first e-commerce site.
Choosing the Right Web Hosting Company for Online Selling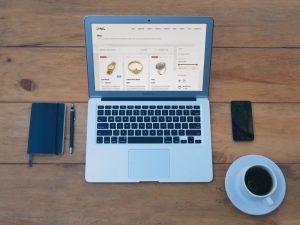 As mentioned above, one must choose a web host along with the right domain name before they can get a site or store online. As online sellers deal with customers' sensitive payment data and personal information, it is important to choose a web host with a focus on security and online privacy. Furthermore, as a slow-loading site can drive customers away and reduce the rate of conversion, a site owner should choose a host with fast load times if they want to generate sales as quickly as possible.
To help the site owner with this very important decision, there are many online guides to choosing a web hosting company for a startup business.
While it is possible to sign up for shared hosting services for just a few dollars per month, those who are serious about the success of their store and the security of customers' data may find shared hosting to be a poor choice. However, the industry is full of high-quality, high-value web hosts, and there's bound to be one out there that's perfect for any company. Most of the best web hosting companies will handle the installation of WP on a website, which makes it even easier on a beginning business owner. Now that the owner has registered his or her domain name, chosen a web hosting company and installed WP, it is time to start laying the foundation for a successful e-commerce website.
The Basics of a Successful WordPress Shop
To be successful and long-lasting, an online store must offer three primary functions: the ability for a shopper to browse a selection of products, a way for shoppers to choose products and add them to a virtual shopping cart, and a way to collect customers' payment information. Of course, a lot more goes into a functional online store than these three factors, but they're a great place to start. Fortunately, WP makes it easy and seamless to enable these core elements and get a store online quickly.
Creating Individual Product Pages
The beginning of building an online store is to set up a page for each product being sold. These product listings should include clear, high-resolution pictures and readable copy that tells customers the advantages of the products as well as their features. Instead of selling the steak, sell the sizzle!
Including a Virtual Shopping Cart and an Easy-to-Use Checkout System
After setting up product description pages, the site needs a shopping cart to allow customers to choose and assemble the products they'd like to buy. Finally, and importantly, the site needs a simple checkout system that can be used independently or integrated with an existing payment gateway. With this, customers can pay for their items in a completely secure environment.
Other important factors for site owners to consider are shipping, inventory management, returns and refunds, as well as customer service. It is important for the online shopping process to be as user-friendly and streamlined as possible. This helps the site owner ensure customers can easily complete their purchases and download or receive their goods.
Things to Think About
There are many things to consider and to implement on a fresh WP installation, and a new site owner may not be sure where to start. However, it's important to remember one thing: WP is a powerful platform, and getting set up isn't as difficult as one may think. With the right theme and some great plugins, anyone can run a successful online store.
More people are turning to online commerce as a side job or as a main source of income. While there are multiple ways to run a store on the Internet, WP provides one of the easiest and most effortless methods of site and inventory management. By considering the factors listed above, any seller can be an online success.
No Posts for this author.